Vaucluse BBQ Rangehood
Check out the BBQ rangehood installation we completed for one of our awesome clients Sally!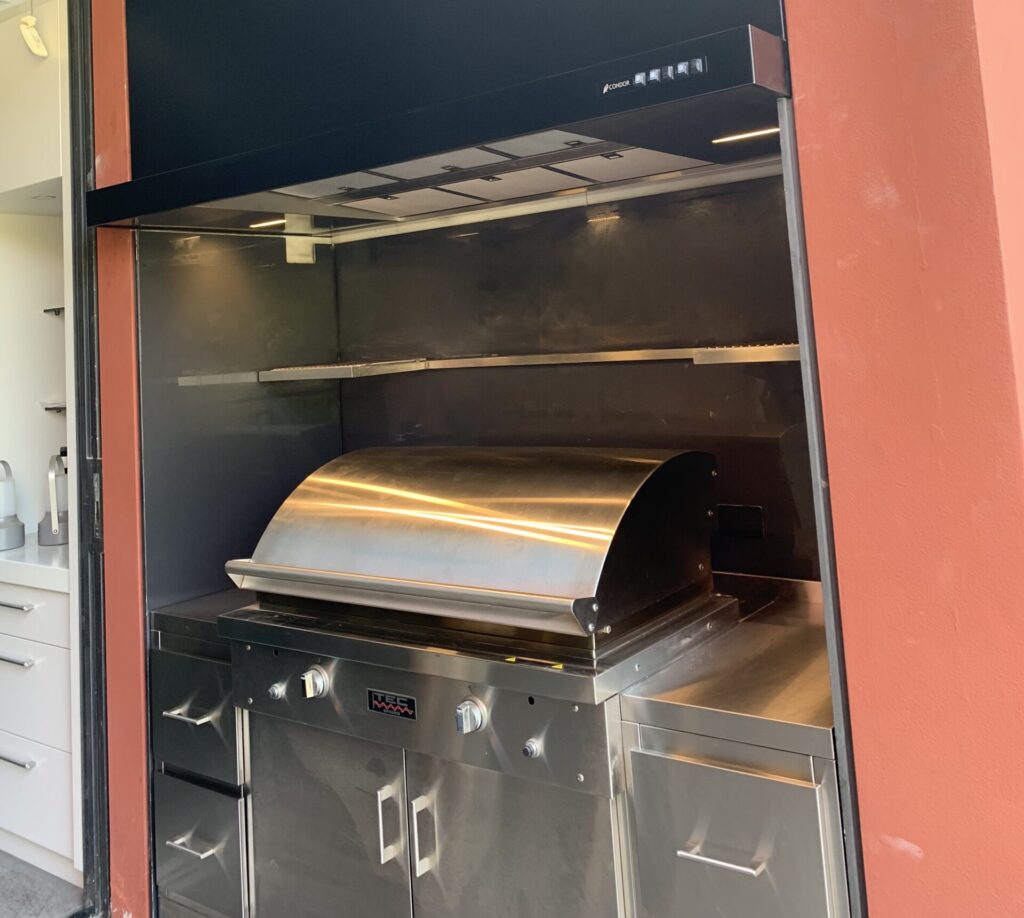 Sally called us as she was having issues with her rangehood not extracting any smoke from her BBQ. On further inspection we realised that her existing rangehood was in fact a kitchen rangehood not suited for use with a large BBQ setup.
As well as being underpowered for what Sally needed, the existing rangehood was essentially useless for 2 reasons:
The range hood was not deep enough to cover the entire cooking surface meaning that even if it had the power to extract the smoke, it would not have caught it all.
The rangehood was installed far too close to the BBQ. The high heat from a BBQ will damage your rangehood overtime and it will eventually stop working.
Once we had recognised this, it was time to get to work.
Once we had stripped everything back we realised this was not going to take your run of the mill rangehood. So we worked with Qasair to custom design and build a system that was perfect for Sally's space. We completed that build with a beautiful Java Black finish and had that installed for her pronto.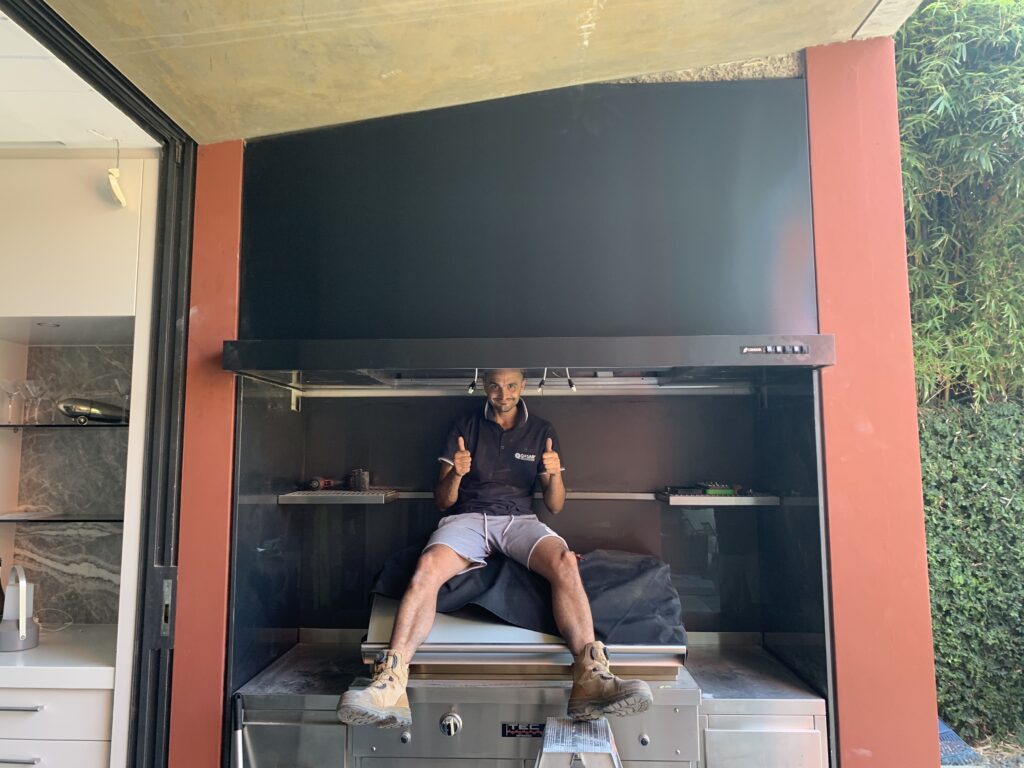 Shout out to our installers Gabe, Luke & Peter who did an incredible job on this amazing installation. Thanks to Qasair for the assistance with this design.
And a massive thank you to Sally for going with Sydney Rangehoods and leaving some kind words behind!
Peter was fantastic. Went the extra mile service wise – very helpful, polite, great communication about when he was going to arrive, price etc. Highly recommended.

Sally from Vaucluse.
Winning Display Installation
Rangehoods on display! We were recently contacted by Qasair, Whispair, and Sirius to assist with the installation of their new rangehood displays at Winning Appliances. As their preferred installer in Sydney, we were more than happy to help!
Although some of these installs were tricky, to say the least, we really enjoyed the challenge and end result of these displays.
Our favorite install was the Qasair Stadium which had to be installed over a beautifully finished Dekton stone benchtop weighing in at 140kg's.!
The following units were installed:
Qasair Statesman – Canopy Rangehood with a Metallic Blue finish.
Unit Information: https://www.winningappliances.com.au/search/Qasair%20Statesman%20
2 x Qasair Albany D-400 – Island Rangehoods powder coated in Satin White
Unit Information: https://www.winningappliances.com.au/p/qasair-40cm-albany-island-rangehood-d400l1
Qasair Thermidor – Ceiling Cassette
Unit Information: https://www.winningappliances.com.au/p/qasair-120cm-thermidor-gallery-under-cupboard-rangehood-trct12003t
Qasair Stadium – Extra Long at 1300mm.
Unit Information: https://www.winningappliances.com.au/p/qasair-stadium-ceiling-mounted-rangehood-stm1300l2
Whispair Copenhagen – Ceiling Cassette
Unit Information:
Whispair Monte Carlo Deep – Dressed with a Brass Shroud
Unit Information: https://www.winningappliances.com.au/search/Whispair%2520Monte%2520Carlo%2520deep
Sirius SDD2LEMIC1180 – Downdraft Fully Integrated with the Stone Benchtop
Unit Information: https://www.winningappliances.com.au/p/sirius-valentina-1180mm-downdraft-hood-with-external-sem8-motor-sdd2lemic1180sem8
A big thankyou to Qasair, Sirius, and Whispair for getting us in for this job and for always providing the best quality rangehoods.
Also, a big thank you to Rosie at Winning Appliances for always trusting Sydney Rangehoods and for the amazing review:
I have worked very closely with Peter from Sydney Rangehoods over the last 4 years and have used his services on many occasions. I have no hesitation in highly recommending him and his team. I work with clients, designers and architects helping to specify appliances for new builds and home renovations and when it comes to kitchen ventilation, Peter is my go to expert. He is adept in delivering ventilation solutions in the trickiest of situations, whether it be an overhead, or downdraft ventilation system. He is an absolute professional and I know that when I refer any job to him I can do so with complete confidence that the customer will be looked after to the highest standard.
---
Looking for a Rangehood Installation But Not Sure Where To Start?
The team at Sydney Rangehoods can help you find the right Ragenhood for your Kitchen or New Build. Whatever the obstacles, we will find you rangehood system that works for you. To have a chat with Peter please contact info@sydneyrangehoods.com.au or 0404 402 494.