Over the past month, Sydney Rangehoods have completed some incredible new projects in Sydney that we are excited to share with you!
Padstow Heights Alfresco Ranghood
What a view! Take a look at this incredible new outdoor alfresco area our client Peter has recently completed on his new home build in Padstow Heights, Sydney. Sydney Range Hoods was more than happy to assist by installing an amazing Rangehood system and ducting exhaust as the finishing touch to what is an amazing entertainment area.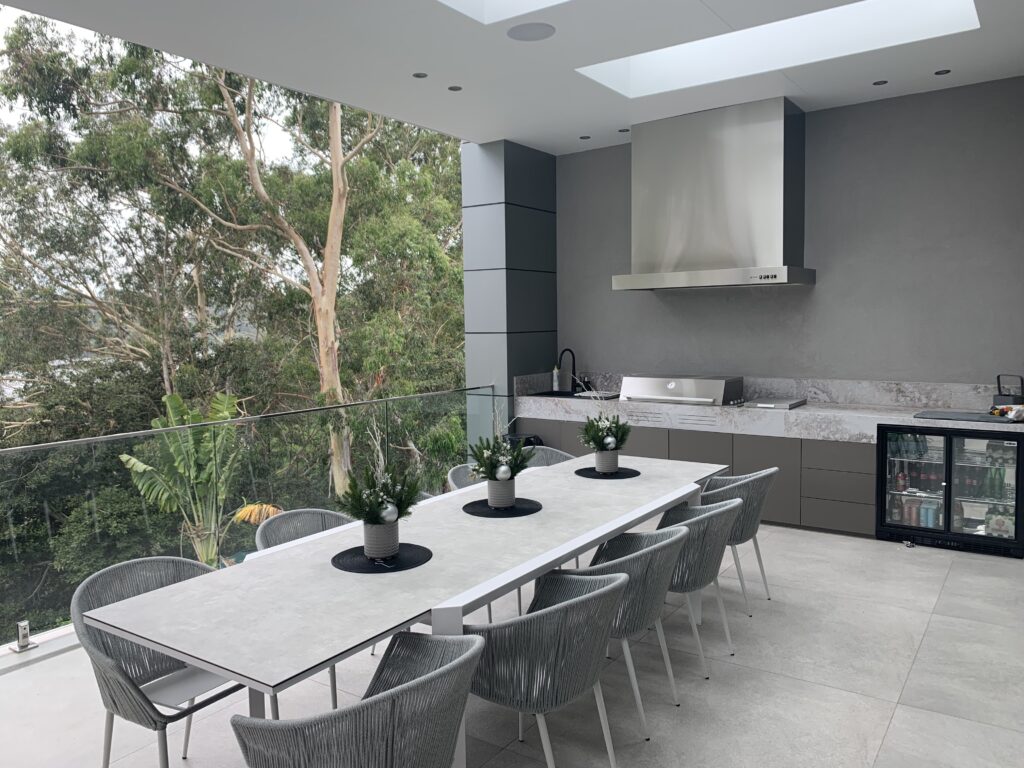 Peter got in touch towards the end of his new build with some uncertainty around what rangehood system would best complement his new area aesthetically while remaining practical with a system that would get the job done. What is difficult about Peters alfresco area is the large distance between the roof and the cooktop. Had a standard rangehood been installed, the suction area would have been too far away and would not have been affective at removing smoke. This is a mistake we are commonly called to fix.  
After a quick chat with Peter to understand his requirements and the space we had to work with, we recommended the Qasair Boston System, and the rest is history! Due to the size of the Qasair Boston at 800mm high, we were able position the rangehood in the perfect spot to catch all of the smoke so Peter and his family can enjoy the view all year round.  
Shout out to our installers Gabe and Luke who did an incredible job on this amazing installation.
And a massive thank you for Peter for going with Sydney Rangehoods and leaving some kind words behind! 
Great workmanship. Always value a tradesman that has an emphasis on everything being perfect. He treated this job as if it were for his own home and would highly recommend

Valued Client – Peter.
---
Potts Point New Build – Last Minute Ducting
Call before you build! Sydney Rangehoods was recently called to assist with a build taking place in Potts Point that had forgotten to consider how the rangehood ducting was going to be installed once the walls and ceiling had been placed. The build was almost entirely completed and at that point it was unfortunately too late. Parts of the ceiling had to be removed in order to install the ducting and what was even worse…. the new build was due for handover in less than 7 days.  
With only a week away from Handover, our amazing I installers Garbriel and Shalvin pulled up their sleeves and got to work. 
By the end of the day the team had managed to install the required ducting with minimal ceiling space using Qasair Ducting. 
The good news – The build was completed on time with minimal damage!
Awesome work Gabriel and Shalvin!
And a massive thank you to Alex for trusting Sydney Rangehoods to get the job done. We hope your clients are cooking away smoke-free! 
---
Looking for a Rangehood Installation But Not Sure Where To Start?
The team at Sydney Rangehoods can help you find the right Ragenhood for your Kitchen or New Build. Whatever the obstacles, we will find you rangehood system that works for you. To have a chat with Peter please contact info@sydneyrangehoods.com.au or 0404 402 494.